Hottentots Shuttle and Tour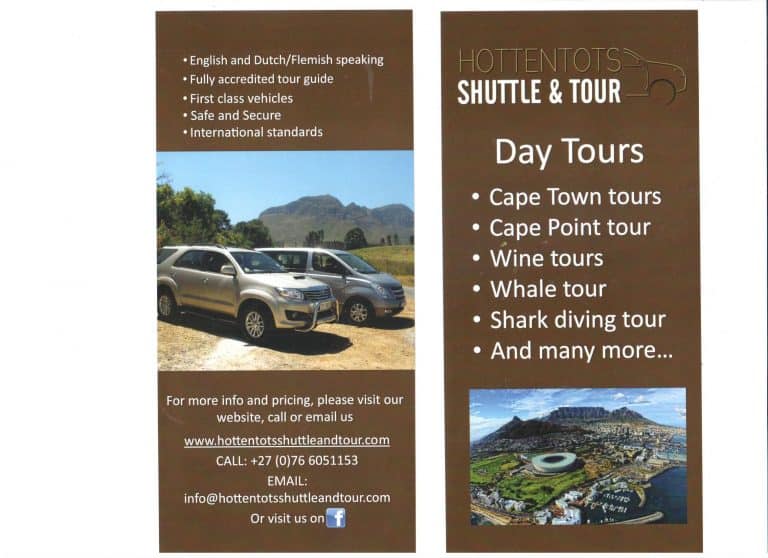 We have a huge variety of tours to cater to every experience you can think of in the Western Cape.
Whether you travel for business or pleasure, we want you to feel at ease, therefore our first class vehicles combined with our dedicated staff will pick you up and drop you off safe, sound and on time, anywhere you require in the Western Cape area.
We offer an airport and general shuttle service from 1 to 8 passengers, 24h/24h.
We speak English, Dutch, Vlaams and Afrikaans (please state your preference upon reservation).
Our shuttle service is as complete as it gets, Hottentots Shuttle & Tour adhere to European standards, don't hesitate to call us for more information.
Have our tours given you inspiration but would you love to combine another one better suitable for yourself and/or your family? Don't hesitate to ask, we can customize a tour to your requirements and budget!
All tours depart at 09h00 – end between 17h00 and 18h00 unless otherwise stated (please check per tour reservation or to be discussed according to preference customer). All pricing is without entrance fees or lunch – Min. 2 persons – Hourly Rate : R300/h.
10% Discount for Airline Staff and Travel Industry Employees.
Please don't hesitate to contact us +27(0)277980472 or email [email protected] , and feel free to visite our website www.hottentotsshuttleandtour.com
The Hottentots team,
Thierry , Katia and Jordy