Discounts for alternative guided visits in Madrid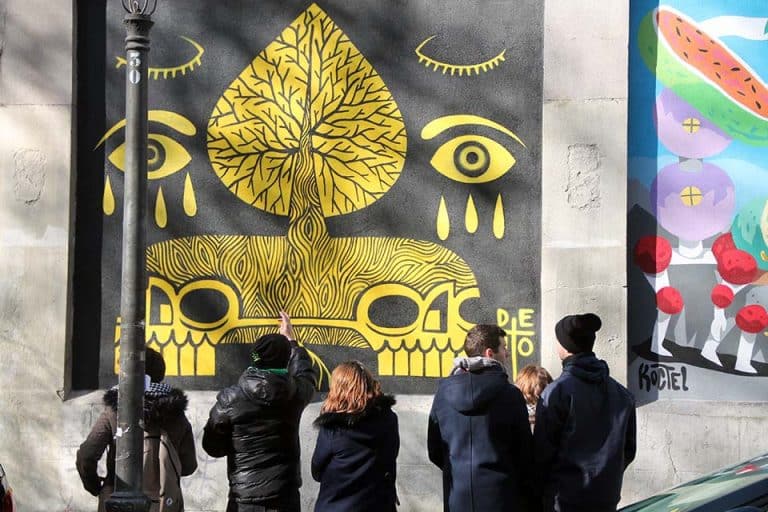 The alternative street art tours that will show you Madrid in a different way!

Our group of local graffiti writers will show you Lavapiés district in a completely different way. Forget about the classical visits in town and join our alternative guided experience in Madrid. Discover the problems that exist in our society and the ways that local communities are trying to solve them: gentrification, domestic violence, political corruption…
Why should you join our graffiti guided visit?
As crew members, your layover may allow you to spend few hours in the city center. We would like you to leave the most touristic areas for another time, and experience it first as a local would do it. Meet Javier, Gerardo, or Santiago, local tour guides who will show you the Spanish capital in an eclectic way.
What does this urban art tour include?
Two hours guided visit in English language.
Local tips
Information about the history, techniques and festivals that represent the street art's culture.
When do we meet and what's the discount I will receive?
Meeting point in a daily way by the two baby head statues located across Hotel Only You Atocha. (11.00AM/5.00PM) Nearest metro station is Atocha RENFE. Booking in advance required through Cooltourspain's website
10% discount to individual crew members.
Kids free (under 16 YO) when travelling with 2 adults.
3×2 offer. If you come with your coworkers, we will give you a free ticket per every two that you buy.
How to redeem your vouchers?
Send an email to [email protected] with your company's employee ID#.
Whatsapp message/phone call to +34638399784
* Please note that we require a minimum of two people for any of our public tours to run. In case the minimum is not met, we would consider it a private tour and price may vary.